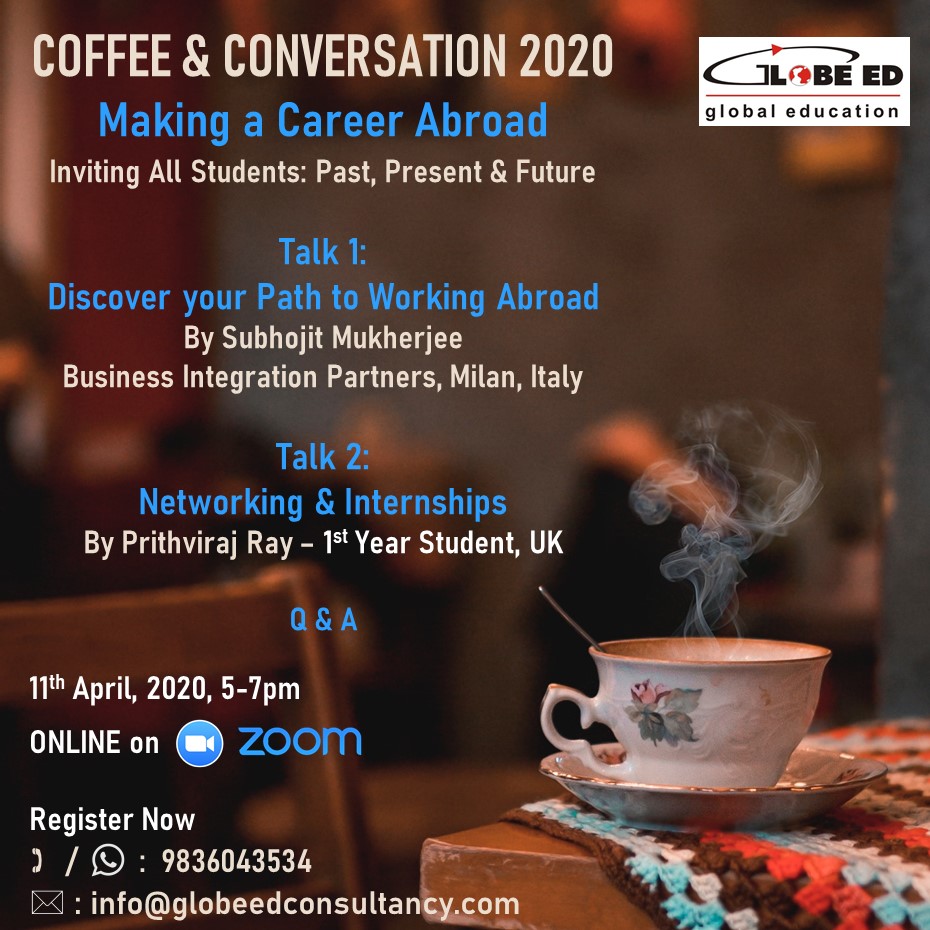 Educative, Elucidative, Exclusive is how the students who attended this year's Coffee & Conversation, described the event.
Our guest speakers Subhojit Mukherjee and Prithviraj Ray immediately connected with everyone which led to a very exciting and interactive discussion. Engaging in intelligent and pertinent questions, the students participated enthusiastically, making the session, as rightly put by Aditya, insightful.
Subhojit began the conversation by comparing the careers of four of his friends who are employed in different countries of the EU. What they all had in common were four things: academic excellence, proactivity, visibility and networking.
He stressed on the importance of maintaining good grades as they make you immediately stand out. However, good grades are not enough. Even if you are an excellent student from a renowned university, there are still many others like you. So why should the employer choose you?
Show that you are the better option, become eligible to be considered, stand out. Employers look for additional skills which you can develop by being involved in various activities. Be proactive, participate in events, join clubs and societies at university, work in projects, intern. Subhojit worked in the university's student union as a treasurer where he learnt how to organize events with budget constraints and developed negotiation skills. All this gave him an edge over others.
Being from Cambridge or Oxford will not entitle you to a job. The employer chose Prithviraj over an Oxford student because he showed experiences. Through his active participation in various university events, he clearly displayed his independent personality and showed that he can take initiative. Prithviraj today holds the position of Vice President at Enactus, a youth social enterprise to support young people in the UK and got multiple future offers while still in the first year of his degree.
You might face adversities, find ways to beat the limitation. Subhojit, for example, had to regularly come back to India (for personal reasons) during his term breaks, but he worked around it. He found research projects to work on every summer that he was home, at KPMG, the Indian Statistical Institute and IIM Calcutta. He utilized his vacation periods efficiently and wisely.
Have you thought about how important foreign language skills are? Subhojit's senior got himself a project only because he could speak Portuguese. In a collaborative project, if you know their language, you will be more easy to work with. It also gives you more possibilities when networking. Besides, if you speak their language, you instantly enter their book of trusted.
An athlete himself, Prithviraj pointed out why employers look for sportspersons. Their ability to cope in high pressure situations, their drive, resilience and teamwork, all of these transferable skills makes one highly attractive.
The importance of networking was also widely discussed. Before trying to establish contacts, it is important to plan your career goal first. Once you know where you want to go, try to get in touch and interact with people associated with it. Subhojit carefully chose his mentor after researching all the alumni members and talking to them. Prithviraj's professional mentor at the university guided him with how to tailor make his CV for every job application and how to highlight his strengths. Where can you meet people to network with? At events organised by your university, at it's clubs and societies or job fairs. You can also get in touch with your university alumni. But most importantly: build your network of contacts and stay in touch with them.
At the end of our Zoom session, Subhojit finally drew our attention to the existence of "hidden opportunities". Without keeping in touch with his professor and mentor, he would have never come in contact with the person who informed him about a project at IBM Italy. Subhojit bagged the job as he was the only one to apply for it. No one else knew of the project.
Talking to Subhojit and Prithviraj was inspiring for everyone and a great opportunity to learn about how to establish a career abroad. We are looking forward to next year when we will again invite everyone for a Coffee & Conversation.