Welcome to our boutique education consultancy, a trusted name in the realm of premium one-on-one counseling for students of exceptional academic standards. With over 18 years of unparalleled expertise in the field of international education, we proudly stand as one of the leading consulting agencies in Eastern India.
Our dedicated team of experienced professionals is committed to preparing students for success in their pursuit of education abroad. Through personalized mentoring and guidance, we empower students to make informed career decisions and navigate the intricate application process with confidence.
Why choose us?
Unmatched Expertise: Benefit from our extensive experience in the international education sector, gained over 18 years of dedicated service. Our in-depth knowledge and insights will help you make informed choices throughout your educational journey.
Individualized Mentoring: We understand that each student is unique, with distinct aspirations and ambitions. Our approach focuses on providing tailored guidance to ensure that your academic and career goals are aligned with the best-fit opportunities abroad.
Comprehensive Support: From initial consultation to final enrollment, our dedicated team will be with you every step of the way. We offer comprehensive assistance, ranging from course selection and university shortlisting to application preparation and visa guidance.
International Team: Our team comprises experts from various corners of the globe. Their diverse perspectives and firsthand experience with international education systems allow us to provide you with invaluable insights and a global outlook.
Strong Network: Over the years, we have built strong relationships with prestigious educational institutions worldwide. This network enables us to connect you with renowned universities that match your academic profile and career aspirations.
We take pride in our unwavering commitment to excellence, integrity, and personalized service. Join us on your educational journey and unlock a world of opportunities. Contact us today to embark on a transformative experience that will shape your future.
WHY STUDY ABROAD?
We want to know what parents think about global education, what experiences they have had and how their children have changed. India has a good and affordable education system, then why should one study abroad? Listen to what parents of our students have to say, whose children have studied in UK and Germany.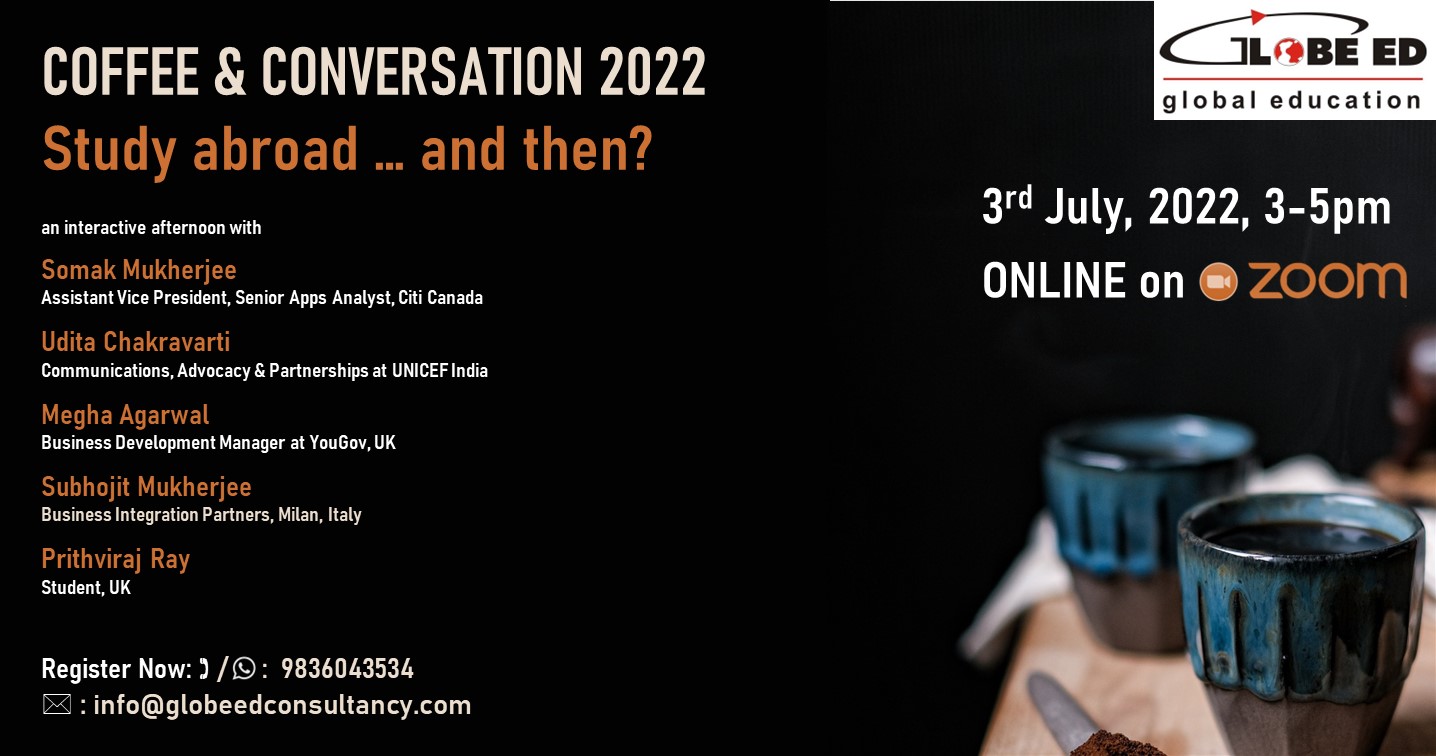 Coffee & Conversation 2022: Study abroad…and then?
Worried about getting a job after studying abroad? Learn what can you and should you do to get employed soon after completing your education. Join us for a conversation with five successful people who can tell you the strategies to employ when you set out to look for a job in these covid times.
Somak Mukherjee (Assistant Vice President, Senior Apps Analyst, Citi Canada)
Udita Chakravarti (Communications, Advocacy & Partnerships at UNICEF India)
Megha Agarwal (Business Development Manager at YouGov, UK)
Subhojit Mukherjee (Business Integration Partners, Milan, Italy)
Prithviraj Ray (Student, UK)
GLOBE ED – COLLEGE EXPERIENCES:
At Oxford, you are a student among potential Nobel laureates, scholars, writers, politicians, scientists, philosophers, world leaders. Come join us to share Zain's Oxford experiences as he talks about his MBAT tournaments in Paris, role playing in the student council, how he spends his Wednesdays interacting with potential employers, the role mentors and alumni play in his job search, how communicating with classmates is developing his interpersonal skills and is preparing him for job interviews
and so much more.
One of the biggest challenges for Zain was academic writing but he worked on it and aced it too. Congratulations Zain, hope you keep learning!
GLOBE ED STUDENT EXPERIENCES:
Vibhu's academics were not top level. But by building his non-academic profile and writing strong essays, he convinced the admissions team of Kelley School of Business, Bloomington, the #3 Entrepreneurship school. Kelley also shares the #10 position with Cornell University amongst Business schools. Vibhu's advice to students: start early in class 9 if you want to build a strong profile to study at a top US school.
Call us to learn more about how we will assist you in building your profile.