We are a boutique education consultancy dedicated to premium one-on-one counselling for students of high academic standard. With more than 15 years of working in the field of international education, we are one of the prime consulting agencies in Eastern India. Our experienced international team prepares students through individual mentoring for education abroad, guides them with their career decisions and helps them with the application process.
A candid conversation with Rituraj Roy Choudhury, Master student of Sport Business, Management and Policy at Manchester Metropolitan University on his experiences in the UK.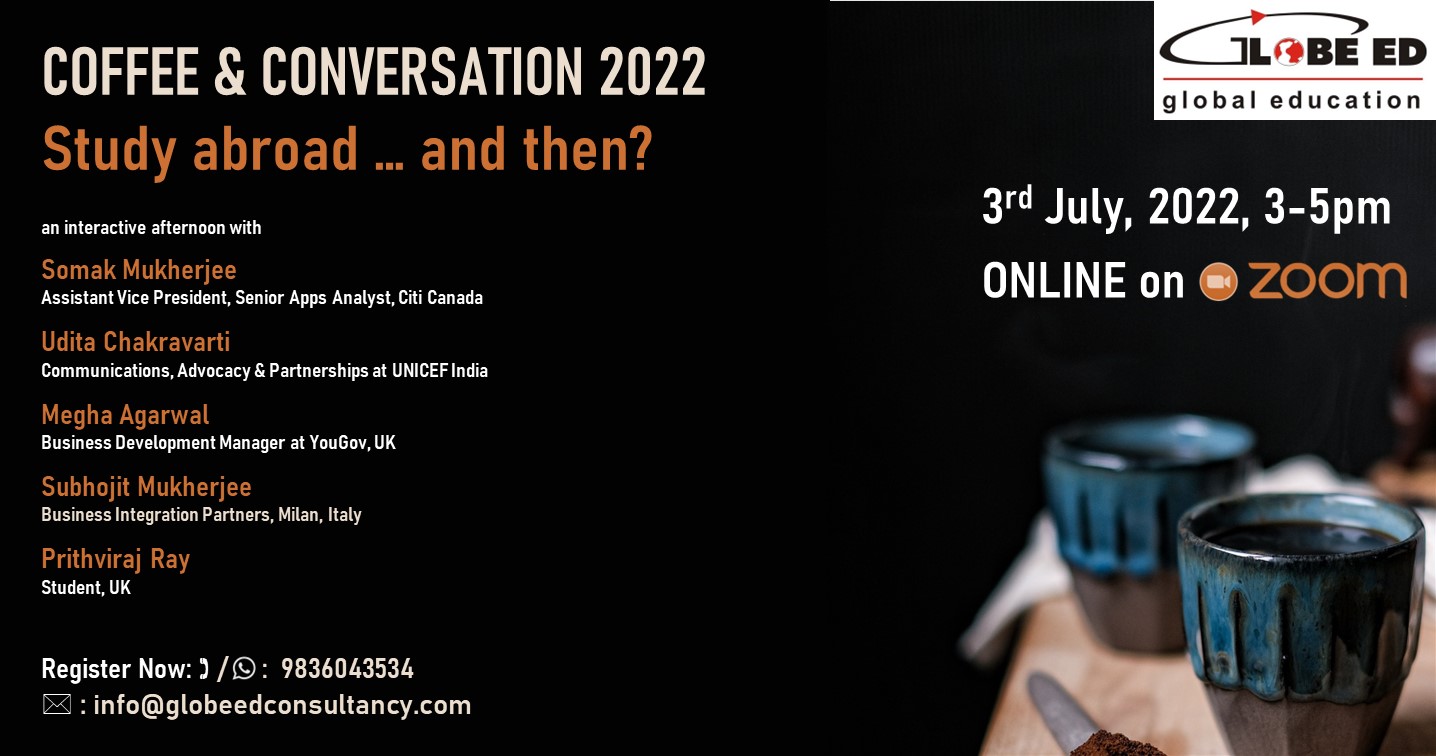 Coffee & Conversation 2022: Study abroad…and then?
Worried about getting a job after studying abroad? Learn what can you and should you do to get employed soon after completing your education. Join us for a conversation with five successful people who can tell you the strategies to employ when you set out to look for a job in these covid times.
Somak Mukherjee (Assistant Vice President, Senior Apps Analyst, Citi Canada)
Udita Chakravarti (Communications, Advocacy & Partnerships at UNICEF India)
Megha Agarwal (Business Development Manager at YouGov, UK)
Subhojit Mukherjee (Business Integration Partners, Milan, Italy)
Prithviraj Ray (Student, UK)
WHY STUDY ABROAD?
We want to know what parents think about global education, what experiences they have had and how their children have changed. India has a good and affordable education system, then why should one study abroad? Listen to what parents of our students have to say, whose children have studied in UK and Germany. [more…]
GLOBE ED STUDENT EXPERIENCES:
Vibhu's academics were not top level. But by building his non-academic profile and writing strong essays, he convinced the admissions team of Kelley School of Business, Bloomington, the #3 Entrepreneurship school. Kelley also shares the #10 position with Cornell University amongst Business schools. Vibhu's advice to students: start early in class 9 if you want to build a strong profile to study at a top US school.
Call us to learn more about how we will assist you in building your profile.

GLOBE ED – COLLEGE EXPERIENCES:
At Oxford, you are a student among potential Nobel laureates, scholars, writers, politicians, scientists, philosophers, world leaders. Come join us to share Zain's Oxford experiences as he talks about his MBAT tournaments in Paris, role playing in the student council, how he spends his Wednesdays interacting with potential employers, the role mentors and alumni play in his job search, how communicating with classmates is developing his interpersonal skills and is preparing him for job interviews
and so much more.
One of the biggest challenges for Zain was academic writing but he worked on it and aced it too. Congratulations Zain, hope you keep learning!