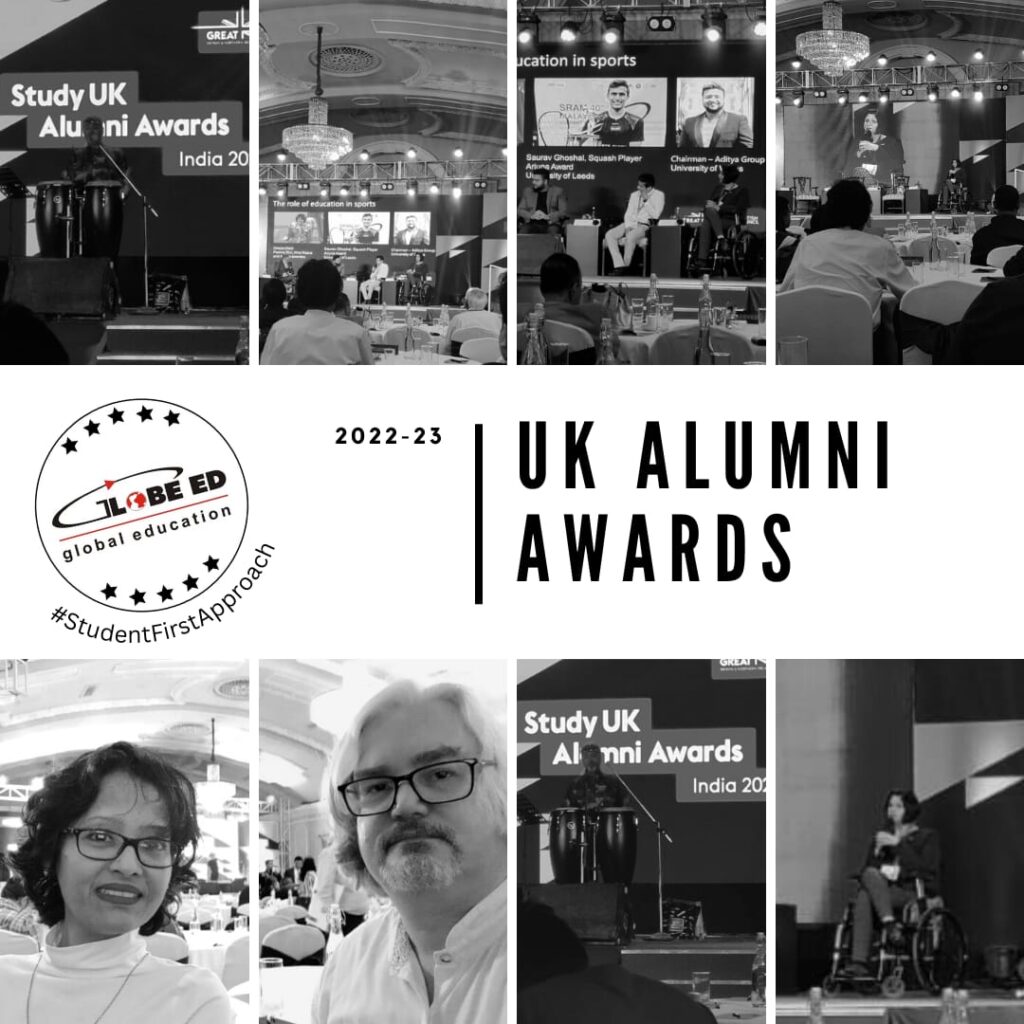 Yesterday, at the UK Alumni Awards organised by the British Council – a fantastic evening to celebrate the awardees and education with music by Bhoomi, a hilarious gig of stand up comedy by Anuvab Pal and a good old panel discussion on the Role of Sports in Education in India.
The highlight of the evening was Deepa Malik, the first Indian woman to win a medal at the Paralympic Games. She has a Padmashri, a Khel Ratna, an Arjuna and many more awards for all her sporting achievements. It was heartwarming to hear her personal story of triumph over not only her own physical disability but that of her daughter too. What was interesting was to learn that she received the necessary education (in terms of nutrition, science, etc.) in India to pursue a career in sports!
An interesting story was that of Sourav Ghoshal, an Arjuna Award winner for his contribution to the sport, Squash in India and an alumnus of the University of Leeds. When Sourav got admitted to both the London School of Economics and University of Leeds to study economics, he chose Leeds over LSE much to the dismay of his father, only because his squash coach was in Leeds. Sourav has given India many victories and recently became President of the Professional Squash Association Men. Sourav has proven that it's not the university that makes us but we who make the university!
Another take away from his story was that British universities care about giving students what is best for them. There was one university that Sourav was rejected by in spite of his excellent profile and that was because they felt that given his intent to have a career in the game of squash, they would not be able to give him the education he wanted because they did not have the facilities that he would need to train in playing squash professionally.
Anirban Aditya, Chairman of the Aditya Group, one of the panellists when questioned by the moderator, Debanjan Chakrabarti, Director of the British Council, East & Northeast India, talked about how important it is for children to learn to in order to learn how to deal with frustration and defeat. In his schools, they make the faculty members play sports, so that even the math teacher can tell his students a thing or two about games!
We laughed our hearts out when Anuvab Pal mimicked the Bengali sentiments on speaking proper English properly! And even Peter Cook, the British Deputy High Commissioner couldn't help but sway to the urban Bengali folk songs of Bhoomi, the first Asian band to perform at the UN headquarters in New York City in 2006.
Amongst the finalists and winners of the awards for science & sustainability, business & innovation, social action and culture & creativity were students from universities not only from the top ranked ones, it reiterated that it is you who defines and curates your future, not the rank of the university.
The finalists and the winners of the UK Alumni Awards 2022-23 were felicitated by Peter Cook and Ritika Chanda, Education British Council India and the evening concluded with a grand dinner and an open bar at the beautiful grand old Oberoi Grand Hotel.
Thank you British Council for the invitation to this extravaganza!