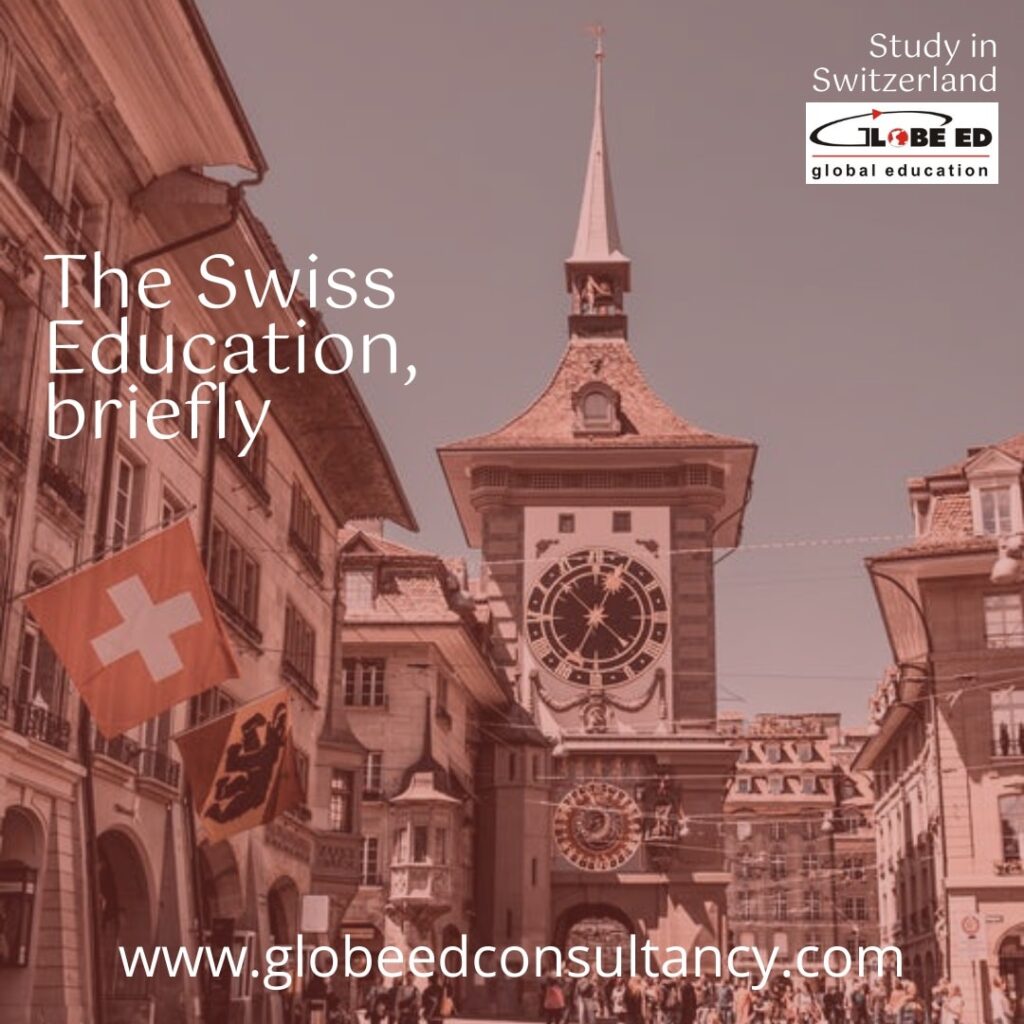 Switzerland being an economically stable country offers a lucrative future to students. With high standards of education, it's universities are among some of the top in world rankings. The country attracts international students in the areas of Business & Administration, Economics, Fashion, Food and Beverage, Languages, Management and Engineering. Inspite of having 4 official languages – Italian, Romansh, German, French, none of which are English, the universities offer many programs taught in English and hence attract many international students. 25% of the population in Switzerland is foreign so not knowing the four official languages does not pose a problem. And you have the opportunity to broaden your world view by interacting within a vastly multicultural environment. If you are an outdoor person, skiing and hiking can become your favourite activities.
There are many private universities offering graduate and postgraduate programs in disciplines including applied sciences, business, music and hospitality. The 12 public universities are:
· University of Basel (UNIBAS)
· University of Bern (UNIBE)
· University of Fribourg (UNIFR)
· University of Geneva (UNIGE)
· Ecole Polytechnique Federale de Lausanne (EPFL)
· University of Lausanne (UNIL)
· University of Lucerne
· University of Neuchatel (UniNE)
· Universita della Svizzera italiana (USI)
· University of St Gallen (HSG)
· ETH Zurich
· University of Zurich (UZH)
Universities in Switzerland offer mostly two intakes, fall and spring and the application period would likely end in March for fall and August for spring. This timeline varies at different universities and for different programs, so it is advisable to check the individual university website for correct deadlines.
While bachelor's programs may be 3 to 4 years, master's programs are 1 to 2 years.
Language of instruction varies from canton to canton. Fewer bachelor programs are taught in English.
Admission to many Swiss universities would require you to get through an interview. Bachelor's programs don't usually ask for SAT but master's programs might require GMAT or GRE. English proficiency tests would be mandatory for most.
Average annual tuition at the public universities for international students can be between £650 and £1,000 per year, while for students of medicine it can go up to £1600 a year.
Cost of study in terms of fee at private institutions can range from 3000 to 13000 CHF (Swiss Francs) for master's programs and an MBA can be 30-85000 CHF. Bachelor degrees range between 6000 to 24000 CHF. The universities offer many merit based scholarships which can cover all of your tuition fees or you can avail education loans in your home country. Most scholarships are reserved for postgraduate and research students.
Cost of living depends on the city you live in, the most expensive being Zurich and Geneva and the most affordable being Basel. Monthly budget in these cities falls between £1,000 to £1,500. Health insurance is mandatory for all and can be around 600 CHF per month, depending on the individual.
Accommodation can be at the residence halls on university campus or with a host family, if not at a rented apartment. Home stays with Swiss families can be your cheapest option along with the opportunity to learn about their culture and cuisine closely. Costs can range from 200 to 800 CHF monthly.
The Swiss government provides subsidized monthly travel passes for students to use public transport or you can go the healthy way of bicycles for which their roads have dedicated bicycle routes.
Visa process can take up to 3 months, onus is on you to apply well ahead in time. For short courses like summer program or language courses, you can opt for the Schengen visa. For longer periods of more than 3 months, you would require a National Visa D and a residence permit within 14 days of arrival.
Work During Study: Students can work up to 15 hours per week during their studies and could vary from canton to canton (state or province).
Work After Studies: Third country nationals get a period of 6 months after studies to look for a job.