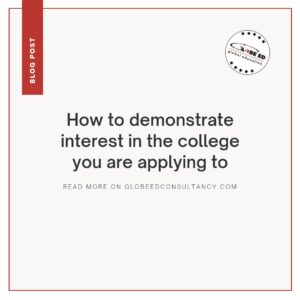 Demonstrating genuine interest in the college you're applying to is a crucial aspect of the admissions process. It is more than a strategic move; it's an authentic expression of your desire to be part of their academic community. It can make your application stand out and set the stage for a rewarding college experience.
Why?
It boosts your application. When you engage with a college by attending information sessions, campus tours, or contacting faculty and students, it sets you apart from other applicants who have similar profiles as yours. You signal that you've researched the college thoroughly and believe it's a good fit for your academic and personal goals. Admissions officers often take note of these interactions, and it can positively influence their decision by assuring them that you will accept their offer, thus boosting their yield rate.
It can also strengthen your supplemental essays. In your application essays, citing specific experiences or conversations with professors, alumni, or current students can lend authenticity to your "Why Us?" section. This authenticity convinces the admissions committee that you've thoughtfully chosen their institution.
How?
Join College Mailing List: Subscribing to a college's mailing list shows that you're interested in receiving updates and information about the institution. It's a simple way to stay informed about admissions events and deadlines.
Tour the Campus (Virtual Tours): Visiting the college's campus, even virtually, allows you to explore its facilities, learn about its history, and gain a sense of the environment. Virtual tours are a convenient option for remote exploration.
Attend Information Sessions and Open Houses: These events provide valuable insights into a college's programs, culture, and community. Attending in-person or virtual information sessions and open houses allows you to ask questions and engage with admissions representatives.
Follow College on Social Media: Following the college's official social media accounts keeps you updated on news, events, and student life. Liking, sharing, and commenting on posts can also show your engagement.
Attend College Fairs: College fairs offer opportunities to meet with admissions representatives from various colleges in one place. It's a chance to ask questions and express your interest in specific institutions.
Contact Admission Officers: Sending emails or making phone calls to the admissions office or representatives demonstrates your proactive approach. It also allows you to seek clarifications, request information, and establish a direct connection.
Sign Up for Admission Interview: If the college offers interviews as part of the application process, signing up and preparing well can demonstrate your enthusiasm and allow you to showcase your personality and passion for the institution.
Contact Faculty: Initiating communication with faculty members, especially in your intended major or area of interest, can show your genuine interest in academic pursuits. It may lead to meaningful discussions and insights.
Contact Current and Past Students: Connecting with current students and alumni through email or social media can provide firsthand perspectives on the college experience. It's an excellent way to gather insights and ask questions.
Apply Early: Applying through an early action or early decision program shows a strong commitment to the college. Early applications often receive priority consideration and can signal your dedication.
Each of these actions can contribute to demonstrating your genuine interest in a college, making your application more compelling to admissions committees.